Law firms are being aggressively targeted by cybercriminals who want access to sensitive information. As the market turns its attention to supply chain risks, law firms are being closely examined for their security maturity.
Disorder in the Court
The legal industry is loaded with sensitive client information, making law firms attractive targets for cybercriminals, yet they often lack the internal resources necessary to adequately repel attackers. The good news is that no matter the size of your firm, you can take steps to improve your security posture and expected outcomes.
---
What the Legal Industry Needs to Do
Assess risk and maturity and implement a plan to uplift controls.
Sniff out vulnerabilities and misconfigurations and mitigate these technical weaknesses.
Concentrate on endpoint detection and response and data-centric security.
Prepare for incidents and test your preparation in both table-top and 'live fire' environments.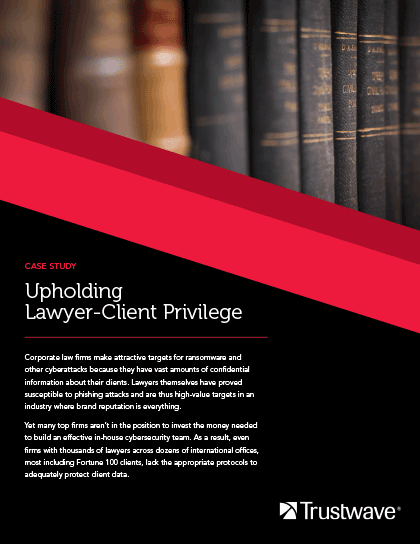 Case Study
Upholding Lawyer-Client Privilege
Learn how a top AmLaw100 upholds lawyer-client privilege.
Defend. Empower. Augment.
---
Expand Visibility

Continuously monitor systems and networks for signs of anomalies – both from insider and external threats – and ensure that confidential data stays put.

Test with Increasing Sophistication

Test your technical controls with penetration testing, your organizational maturity with Red Teams, and your ability to detect and respond with Purple Teams.

Extend Your Security Team

Stretch your capabilities by gaining access to Trustwave expertise and knowledge that come from us successfully working with thousands of customers around the world.

Maximize Your Investment

Partner with Trustwave to identify how to make best use of your existing cybersecurity resources and future investments.