By Industry
Manufacturing
Manufacturing industry cybersecurity is straddling a line between traditional, legacy operations and modern times, facing unique cybersecurity challenges on both sides of the line.
Protect old and new
Manufacturing facilities around the world are more internet-connected than ever, but the cybersecurity in manufacturing practices and operational technology (OT) at many have lagged – putting the industry at great risk. Cybercriminal groups recognize this and have been increasingly targeting manufacturers. The good news is despite these challenges and skills shortages, you can take steps to take back control.
---
What the Manufacturing Sector Needs to Do
Conduct a full audit to identify IT & OT devices, applications and systems and how they are connected.
Establish a roadmap to address the gaps, vulnerabilities and risks identified within and outside the organization.
Deploy technologies that provide real-time protection against malware, including ransomware.
Reduce detection time, particularly on endpoints, as the number of connected devices grows.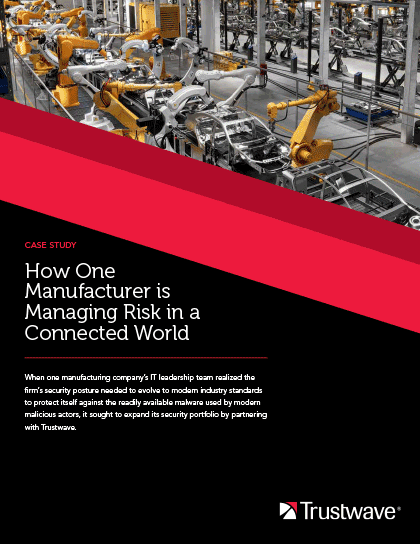 Case Study
How One Manufacturer is Managing Risk in a Connected World
When one manufacturing company's IT leadership team realized the firm's security posture needed to evolve to meet modern standards, it sought to expand its security portfolio with an industry leader.
Earn an "A" for More Than Effort.
---
Take Away The Mystery

Conduct an assessment against an industry standard such as NIST CSF, establish a roadmap, communicate effectively it to your Board and C-suite, and execute on the plan.

Extend Your Security Team

Stretch your capabilities by gaining access to Trustwave experience and knowledge that come from successfully working with thousands of customers around the world.

Maximize Your Investment

Partner with Trustwave to identify how to make best use of your existing security resources and future investments.

Automate and Achieve Simplicity

Turn to the easy-to-use Trustwave Fusion platform to obtain a single snapshot into your technologies and services, so you can more effectively manage your security program.